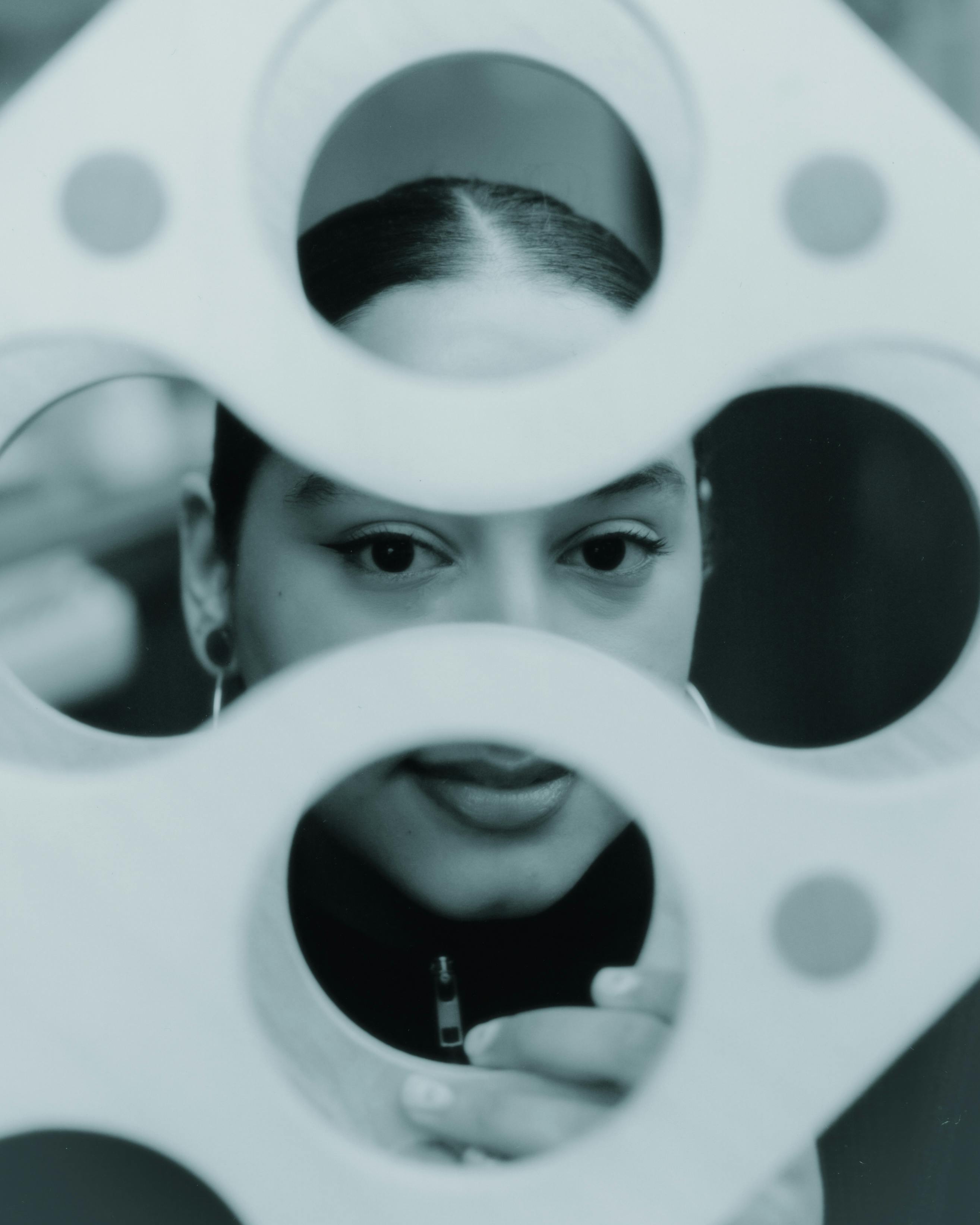 A Home Here: Christine Espinal's Spatial Superpower

Words by Apryl Fuentes
Photography by Devlin Claro
"We were building clubhouses with scraps that were in the back and planting trees."
There's a house nestled on a peninsula, surrounded by water forming beaches on either side. At the bottom, the seafoam kisses the sand, dampening mounds ready to take shape as castles, lined with shells for walkways and windows. A woman stands on the porch, looking down at the beach where her grandkids are playing on that shoreline. One girl in particular is sculpting the sand as if it were clay. Christine paints a picture of this memory with a softness to it that lets me know she revisits it often. Summers in the Dominican Republic, at the house on the peninsula, felt like home for spatial designer Christine Espinal. 
"I've always chased that feeling of creating home. I've carried that with me and realized home is wherever you make it."
We are always in space. The room you cover in objects and furnishings found on your flea market tour, a park you pensively stroll through, the subway on any given day, – everything is a space. There's a certain kind of magic required to fabricate alternate universes, bringing evocative environments to life, for the purpose of human connection. Spatial design engages with the nature of our surroundings, leaving impressions on our experiences. This specialism is as conceptual as it is functional, emphasizing the fluidity of movement and interaction with one's environment. It has everything to do with how we relate to each other across realms. 
It was serendipitous that Espinal would one day walk into a showroom for design incubation and strike up a conversation with Ed Be and Jared Blake, founders of New York's acclaimed shop – Lichen. A passion for newer approaches to design brought Espinal back to her city after a brief moment spent studying in Philadelphia. While attending FIT, she created Mesa Tres; the conversation starter that sparked a genuine connection with the team at Lichen. This intricately constructed figure is now a highly sought-after piece. Peaks and valleys of plywood bond together, in delicate multifunctional form, curving recesses for books or records; a design that remains true when flipped on its side. A piece so distinct it requires unexpected problem-solving, a characteristic of design through which Espinal channels her visionary magic. It's seen less as a hurdle, in her eyes, and more as a magnetism feeding her passion.
A similar spontaneity, to that of her origin connection with Lichen, is what moved me to strike up a conversation with Espinal at an art show in Los Angeles. Back in Brooklyn, we reconnected through the screen, talking design theory and inspiration; she lent glimpses into her process, from aspiration to reality. Having admired Espinal's work for some time, I remember this kenzan she had crafted for a special partnership, imbued with her signature playfulness. These objects and prototypes are treasures amongst the stacks of design books, sketches, and lamps illuminating her home. The designer's personal collection mirrors her taste and this idea that less can be more. No two days or months are alike in her corner of the world. We related on the ever-changing nature of our living spaces. Switching pieces from time to time, purging, renewing. Espinal's loft is a living curation dedicated to the moments it holds, memories made, dinners with friends, reading in a nook– the passage of time in this place.
"When I'm meditating and designing, imagining in my head, that's when I get to tap into that superpower. There's this empty space and it can be anything. I saw the power there on the beach."
Nature is the original spatial designer, innately regenerative, with every element having deeply intentional purpose and function. Biomimicry lends so much knowledge to the discipline of design, where problems posed are solved through ingenuity. It's this very quality that draws Espinal to her creative practice. Floral arrangements adorn various corners of the artist's Brooklyn loft, an art form that keeps her closely connected with nature. This is a pool of inspiration she's always drawn from; a memory of her childhood when her mother would buy fresh flowers to craft her own bouquets. In adulthood, the gorgeous impermanence of this collaboration piques her interest time and time again, as an opportunity to slow down and enjoy the present moment. 
A slow burn of incense fills the loft with notes of focus and relaxation. As the sun sinks into the horizon, those punchy colors paint the sky. At dusk the light transitions from a soft glow to a blue ocean, mimicking gentle waves. She plays with lighting as if it were a material to be sculpted; similar to the birchwood that makes a mesa. An oceanic scene is projected onto the otherwise simple wall, right next to it the coveted Noguchi lamp emits another soft light. One day Espinal will show the world her lighting creations; a topic briefly mentioned in response to my curiosity of what comes next. Until the day she redesigns her grandmother's beloved home on the peninsula, Espinal has made a home here.
"This is the world of utility. There is no avoiding reality, no way of escaping it, for the sole purpose of these objects is to serve people's needs. But to think of them as nothing but physical objects would be an error. They may simply be things, but who can say they don't have a heart? Forbearance, wholesomeness, and sincerity - aren't these virtue witnesses that everyday objects have a heart." - The Beauty of Everyday Things by Soetsu Yanagi