TAKE A PICTURE, IT'LL LAST LONGER 
An Interview with Malcolm Dia by Eileen Isagon Skyers
Images by Jacob Consenstein and Eileen Isagon Skyers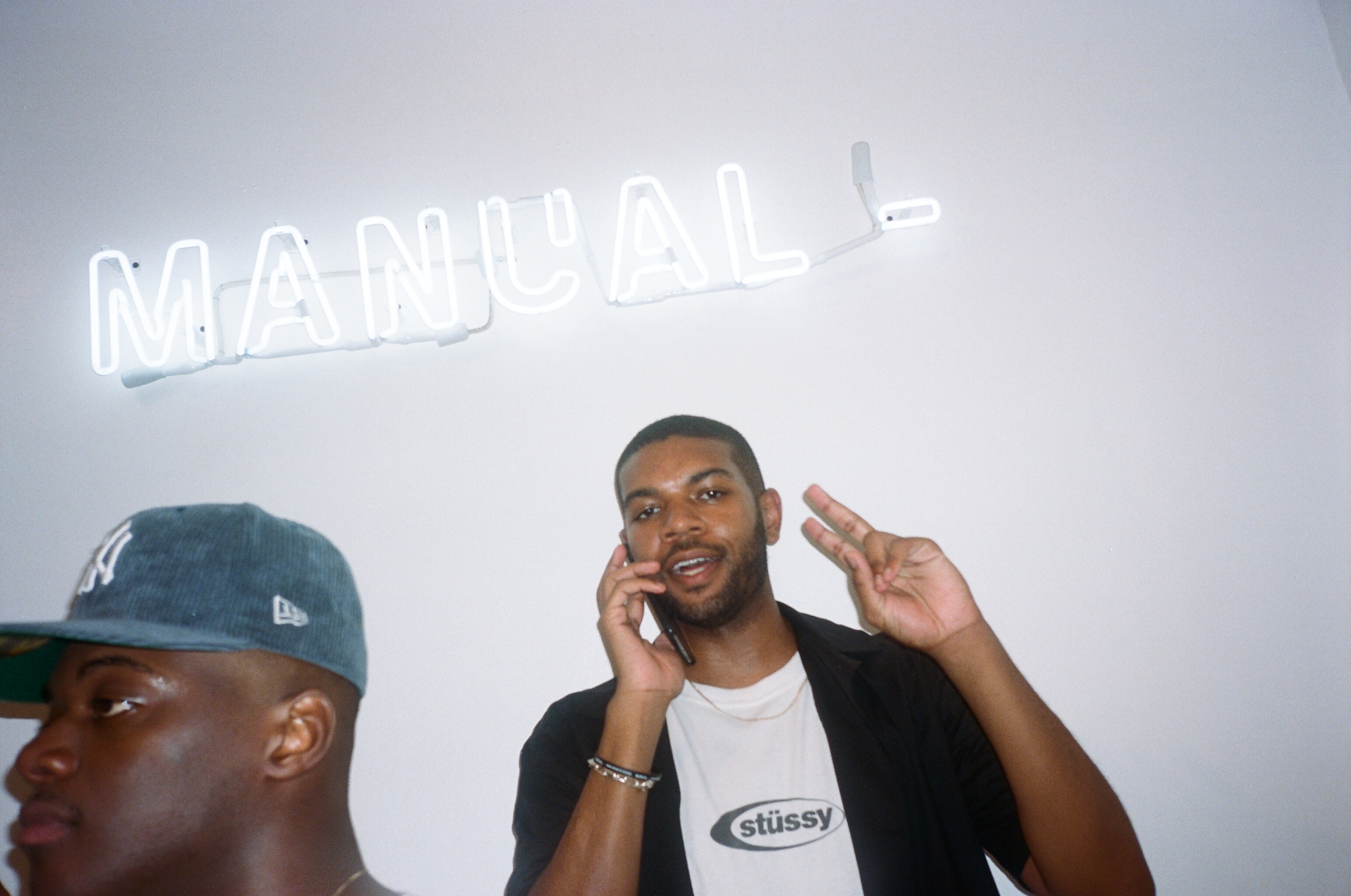 Malcolm Dia has spent much of his life surrounded by photography—a medium that captured his attention from a young age. When he was a kid, his grandfather had a darkroom in the garage. Naturally, when he moved to New York to work in media (initially at Condé Nast's GQ), he started hanging around at photoshoots, connecting with incredibly talented photographers who were shooting for ad campaigns, and magazine covers. Curious about their personal lives and passion projects, he quickly found that a lot of them also shot film. Malcolm shot a lot of photos himself—on disposables, and point-and-shoots—in fact, when I first met him years back, we were taking photos at a MoMA show on the Fujifilm Instax Mini. One thing he noticed was that it didn't seem like anyone really cared about the places they got their film developed. A lot of our friends would usually drop their rolls off in Chinatown, or Greenpoint, whichever was more convenient.
MANUAL became the answer to that. Malcolm wanted to create a service for his friends where we could develop our film, shoot on custom cameras, and connect with other kids who were equally invested in the idea of film photography. Beyond that, he wanted to reintroduce film to a generation of kids who were being raised by the internet—surrounded by finstas, deepfakes, monthly app subscriptions, and constellations of perfectly curated image grids.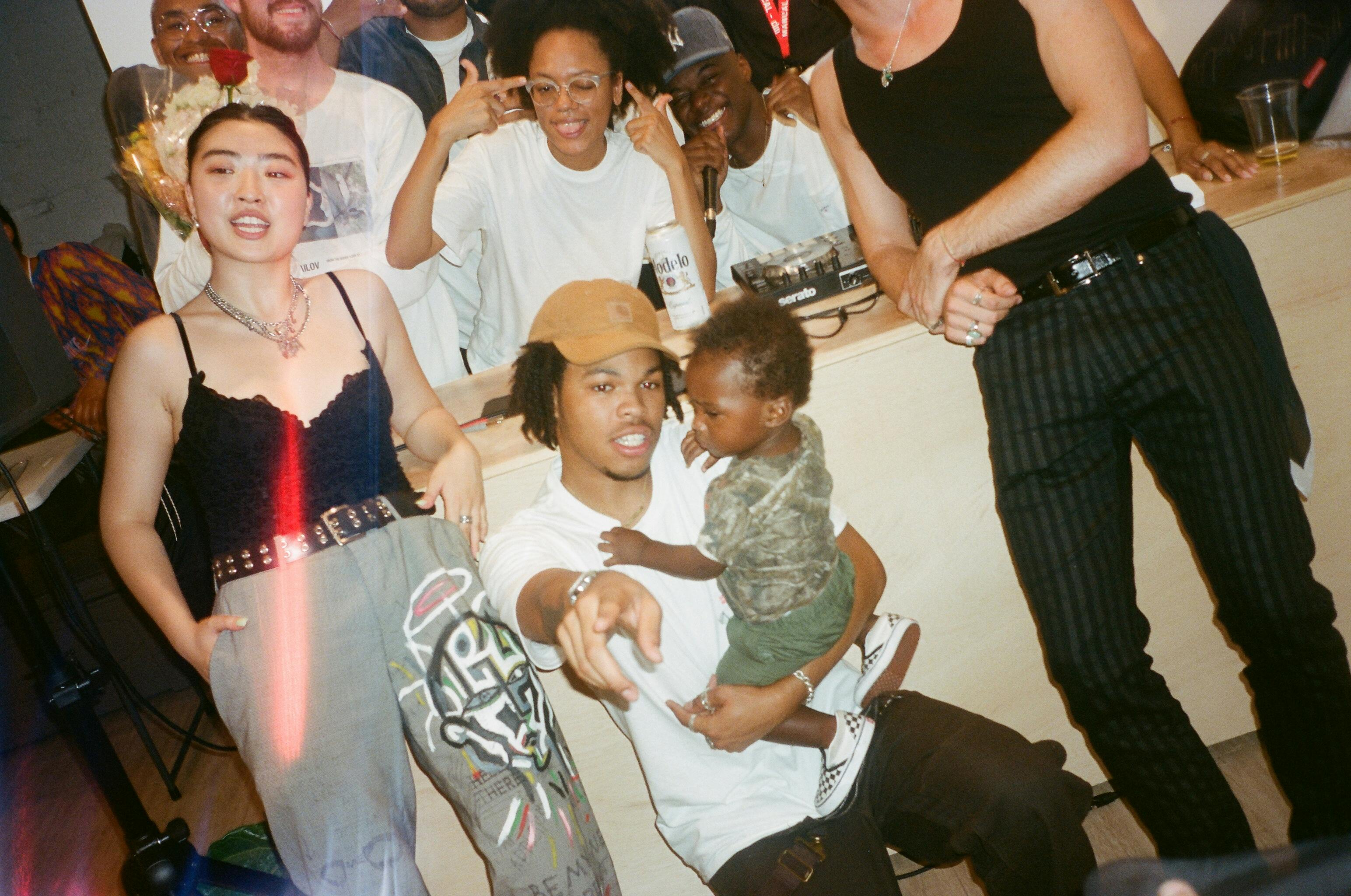 Like many New Yorkers, Malcolm starts his morning with a breakfast sandwich, or at the gym, before jumping into decks for upcoming projects, products, and collaborations. He stops at Dashwood Books often. Paulie Gee's is another regular jaunt. Sometimes he's on a shoot, other times he's on the phone all day. I've even seen him take a business call from an icy upstate hike. I recently sat down with him at our shared studio/office in Greenpoint to learn more about the day-to-day operations behind MANUAL, and to find out his ambitions for the future of film photography.
Eileen: For the newbies, can you describe in simple terms how you get your hands on a MANUAL disposable or reusable camera, and how to get your film developed? 
Malcom: You can easily order one of our cameras on our website or grab one if you pop out to one of our events where we are distributing cameras. If you order a camera from our website, it comes with a free prepaid return mailer that you can ship back to us. We then send back a digital delivery of your photos within 1-3 days and boom, you're done.
Since MANUAL launched in 2017, it has grown into this sporadic, creative community, which has continually questioned what it means to exchange images—not just online–but across various mediums. They wanted to get disposable cameras into the hands of creatives and artists who might not normally shoot film. And they followed that thread of curiosity, wondering what would happen if they started sending people single-use film cameras by mail, and handing them out to their friends.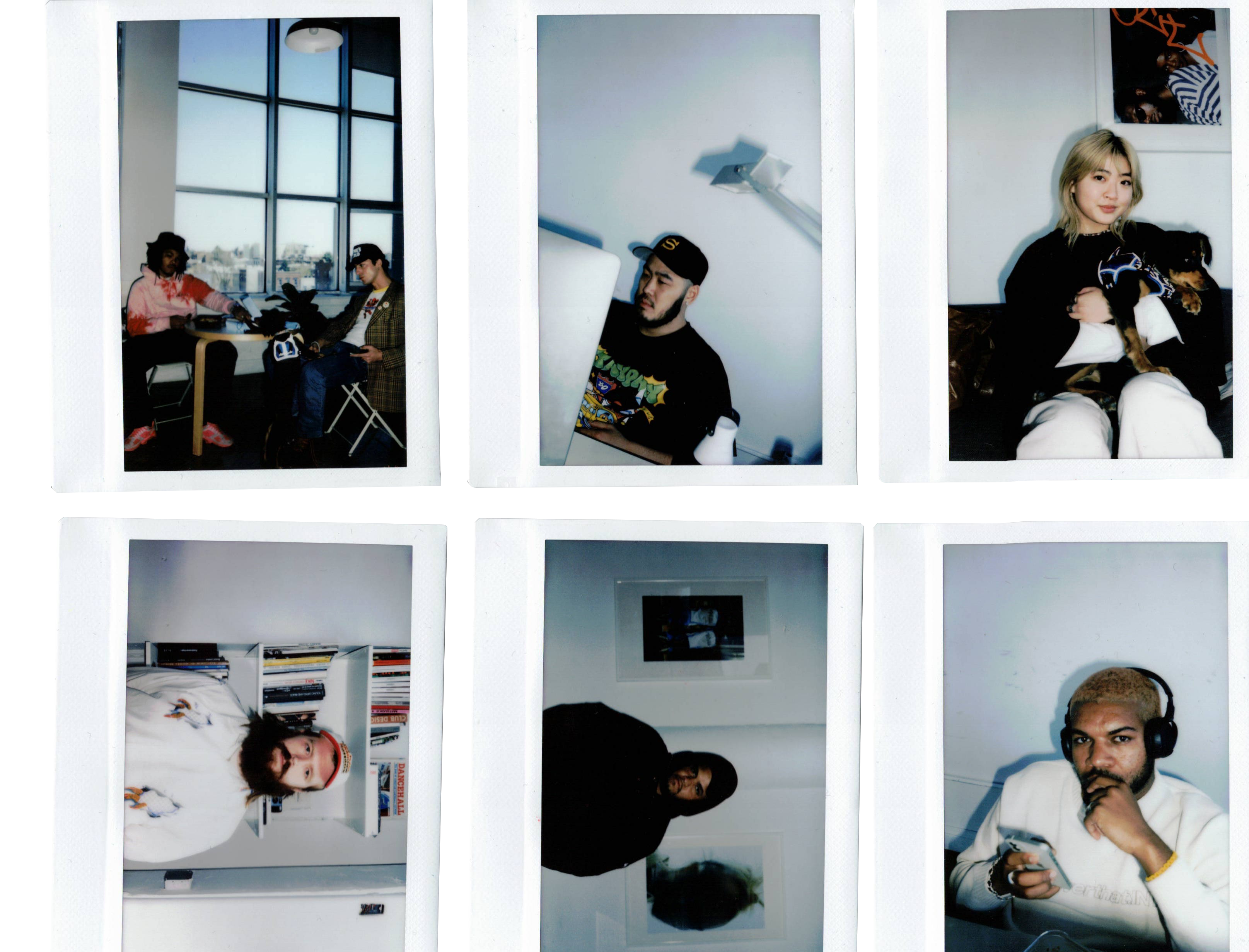 E: Who are some photographers and creators that you look to for inspiration? This can be anyone across art, film, and design that comes to mind.
M: Dieter Rams, David Hockney, Jiro Konami, Nan Goldin, Davide Sorenti and Deana Lawson are all great inspirations to me as artists, photographers and thinkers. 
When MANUAL opened a temporary shop on Delancey in 2019, there was a coffee counter, a neon light, and a front desk where you could drop off film. When they would outfit the space for an exhibition or a t-shirt launch, there would be no more than two speakers, a cooler, and some vinyl on the wall, but the line to get inside would circle the block. By now, they've put together a number of wild postings, product collaborations, art shows, and parties, and they show no signs of stopping. They've recently restocked their first ABS plastic reusable camera. 
E: Your summer pop-up shop on Delancey in the Lower East Side boasted merchandise, a coffee stand, and several super well attended events and openings. What are your plans and ideations for your future space(s)?
M: We really hope to re-cultivate the sense of community our pop-up shop was able to curate that summer. We're really looking forward to working with gallery spaces, and curating more formal exhibitions. On the other hand, we like fluctuating between intimate and larger spaces for parties and events. It is a priority for us to celebrate those who take photos in the format of an exhibition, as well as create those "photo-worthy" moments in people's lives through our events and gatherings.  
E: What does your daily routine look like running a camera company? Give me the 9-5 and the after-hours.
M: I usually wake up and head to the gym at Chelsea Piers and go swimming. Afterwards, I bike across the bridge to our office in Greenpoint and grab an egg sandwich and a coffee. At the office, I start by answering emails and making decks for our upcoming projects and collaborations. Once the rest of the team makes it to the office, we head over to Paulie Gee's for lunch and catch up. Once we're back, the team and I work a bit more on our tasks and projects for the day and wrap up around 5. Most nights after leaving the office, I head back to the city, grab a drink with a friend, and prepare for some meetings for the next day.
E: What do you think is drawing a new generation towards film photography—do you think that the interest never left, and is just bubbling up now?
M: This new generation is heavily obsessed with the feeling of nostalgia—hence the pull towards film photography. This generation is really pushed to think beyond just the physical and into the digital sphere, and it's exciting because kids are becoming more and more creative. However, the allure of film photography has bubbled up as it has become this generation's means of capturing the grittiness of life. We can see that film photography heavily contrasts the fast-paced and digitized mediascape that we have become so accustomed to. We can see that this generation, through the revival of DIY-culture, craves tactility, materiality and timelessness which film photography is adept at providing.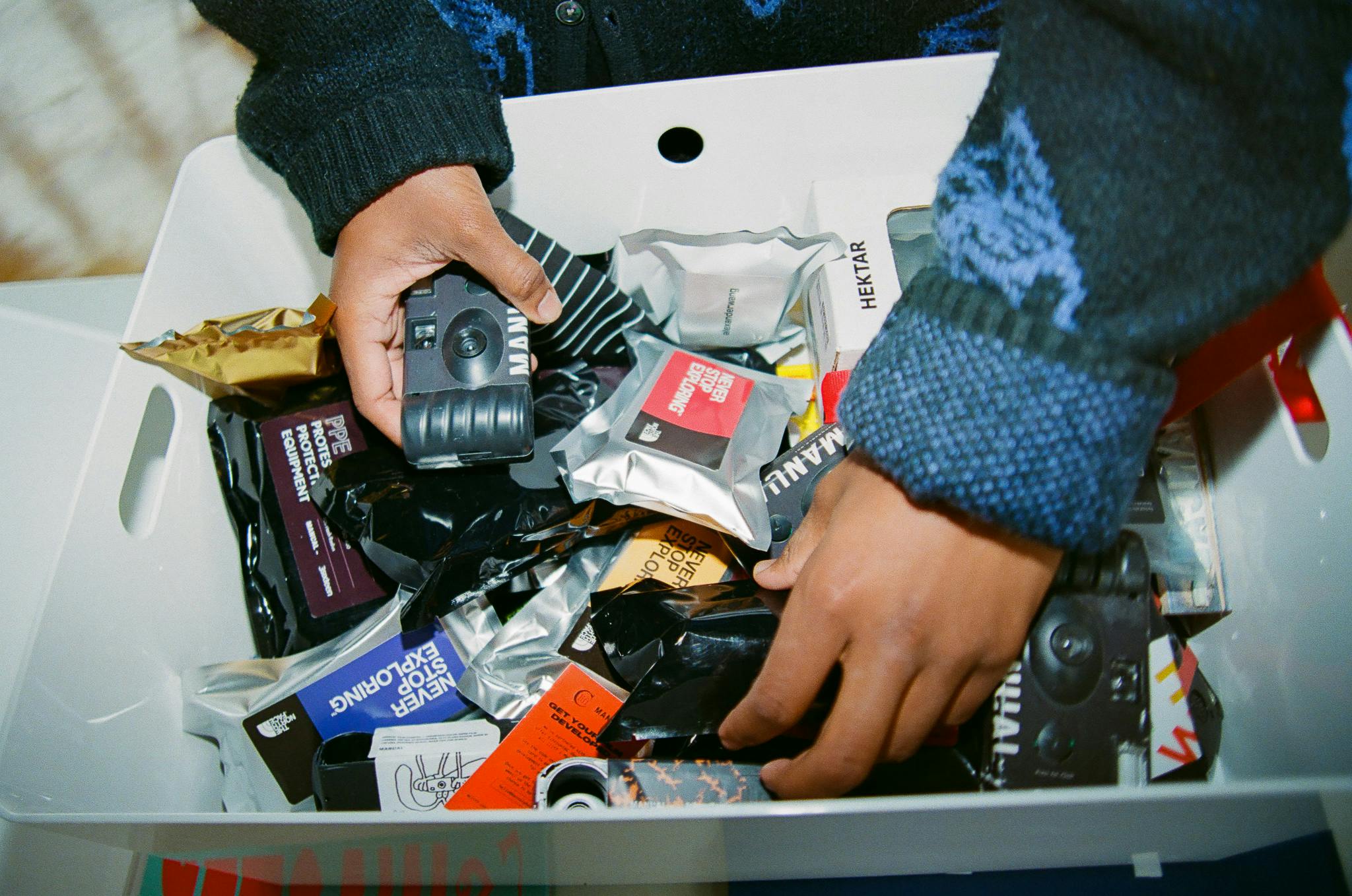 E: Yes, definitely. Do you think that kids appreciate the tactile, uncanny nature of the light leaks and grainy quality of film photography as a counterpoint to the dismissive, constantly mediated space of the digital? How many people do you know of that are actually engaging with physical prints?
M: Absolutely! There is definitely a gravitation towards film photography to disrupt this constant flow of perfect and pristine media. The accidental thumb in a shot, the blurriness, and the overall candidness that film photography encourages is extremely refreshing for us and our eyes. A lot of our counterparts engage with physical prints and develop their photos in the darkroom, while others take a different approach by using only digital platforms. The beauty of film photography is that there is an artistic process and precise intention behind either approach. 
Though they've planted their roots in New York, the MANUAL team is well aware of the fact you can't remain siloed to singular city-focused content in a digitally connected era. They all want to travel, and meet people, and distill those relationships back into what they do as a company. They have given careful thought to the role of photography within their communities—how we document our everyday experiences, and how the presence of a camera can change the environment of any space we are in. 
E: Tell me about some of the events you've done globally—I know there was something in Miami, LA, and plans for Mexico City. Why is it important to you to cultivate a global network?
M: Aside from Miami, LA and Mexico City, we have had some events in Tokyo, and plans to go to the UK before the pandemic began. We are lucky to have such a global network of people that also happen to be our friends, and so a lot of the events that we host globally also become opportunities to reunite with our homies. There is so much talent in this world. Who are we to shy away from these international photographers, brands, and artists? Especially when we are a company that prioritizes the work and stories of BIPOC people, it is important for us to consider stories outside of the United States and build on those relationships. 
E: Can you share more about the team members and the different functionalities of each role?
M: So currently, on our team, we have myself, the founder of MANUAL (Malcolm Dia), and Ramon Smikle who has taken on the role as a partner and business developer. At the office, we have Aren Johnson, who runs creative strategy for the brand, and June Kitahara who takes on the role of communications lead. Alex Wang is our operations manager, handling shipments, packaging, and making sure everything just runs smoothly. Lucas Weber helps out with our production, and Alexander Roth is our consultant who helps us with brand relationships, photoshoots etc. 
While they all take on different roles, much of the core team is involved in the brand's development. Many of them are photographers or artists themselves, which makes them even more invested in the idea of introducing film photography into people's lives. They come in and out as needed to work on materials, package shipments, strategize shoots, and plan events. Right now, they're looking to get cameras out to more young creatives throughout the city to get a fresh perspective.
E: How do you see photography growing and changing, technologically or culturally, over the next 5-10 years?
M: Film photography will always be an important part of the cultural lexicon. It's a practice that has survived through the decades and that has evolved and changed as new people took it up. Our goal is to continue to foster the new talent coming to the film photography world and help amplify their voices. The NFT space has also shown that there is a way to explore the digital side of film photography and we're excited to play more with that space. 
E: What's next for MANUAL?
M: The business has grown a lot. We've done a lot of brand partnerships, we've done a lot to inspire the community, we just released a reusable film camera model, which we'd been working on for a long time, and we have plans to make another camera prototype by the end of the year. The goal is just to continue to push film photography as it relates to all the aspects of culture that we love—art, fashion, music, design, sport—and really be a part of that ecosystem moving forward.