JUNGLEPUSSY
How Junglepussy Survives the Apocalypse
Words by
Maude Delice
Photos by
Cheril Sanchez
Hair by
Andrita Renee using Amika
Makeup by
Raisa Flowers
Styling by
Ntombi Moyo
"Spread love, it's the Brooklyn way" isn't just a popular Biggie reference. It's a maxim that is embedded in every native Brooklynite, a truth we live by and share with anyone who comes into contact with us. Which is why I wasn't at all surprised when I arrived on the set of Junglepussy's shoot and heard things like "she's super happy" and "so conversational" or "the energy has been really great." Her East New York upbringing and West Indian heritage account for that. What does surprise me is how she greets me the first time we meet, with a soft-spoken "nice to see you."
Prior to this introduction I had listened to JP3 for hours on end (Get Down feat. Rico Love was on heavy repeat), revisited my favorites from her social media profiles (you won't regret following her Twitter), and watched JPtv videos that amplified her bravada (BrownSugar Sunshine Tarot is the astrologist we all deserve). So I was expecting her to be as animated in real life as she is in her videos, this gentle exchange throws me off. It also didn't help that she looked like a modern-day Wonder Woman, outfitted in a sparkling bodysuit and patent red knee-highs that gave her already towering height a few additional inches. If it wasn't for the warmth in her tone and the ease with which she says it, nice to see you, as though she was addressing an old friend, I'd be nervous.
"I used to be like 'there is no difference between Junglepussy and Shayna' but my friends told me there is," she briefly pauses before collecting her thoughts again. "But they don't know shit!" she exclaims with an energetic handclap, revealing the Junglepussy I was accustomed to seeing. We're in her trailer now, and she's facing a mirror, seemingly directing this dialogue to her reflection. "Only time when I'm really like, 'Okay, this is Junglepussy,' is when I have to show up and when I'm doing a shoot or when I'm doing a show. Other than that, when I'm just in between, living life, I don't feel like there's a difference." She turns to me, eyes locked, and lets out a deep sigh. "Imagine being funny, being a good writer, being all these things, being stylish, then also being a good person or somebody who tries to better themselves all the time. Imagine fitting all of that into a person," she explains. "Sometimes, I get overwhelmed by my own existence."
We wrap our shoot at Irving Square Park in Bushwick, with just enough time to capture the Summer's radiant evening sky; an effervescent sapphire that contrasts perfectly with Junglepussy's neon green wig. Nearby tweens who were outside playing, and occasionally running across the photographer's frame, take the first opportunity to approach her: "Can we take a picture with you too?" "What do you do?" "Add me on Snapchat!" "Book me, I'm a rapper too!" "What's your rap name?" Junglepussy speaks to them with the same quiet warmth I had witnessed earlier, indulging their curiosity, squatting for leveled selfies, and even initiating a cypher. She does everything but answer, "what's your rap name?"
"I knew from jump, having a name like Junglepussy, it wasn't going to be easy," she admits. "But then seeing that it's actually helpful, it's opening people's minds. It's a tool, it's a whole other movement in itself. I'm just the vessel to move it around. Of course, I could change it, but I would only be changing it because people are uncomfortable and I don't care about anybody else's comfort. So I'm like, 'No, I need to move forward with this name. I need to rise above, and I need to stop thinking it's a problem' because then people will think it's a problem." If you're looking for the answer to "why Junglepussy?" look no further than her video "ME" where she lists well-known men named "Dick," ending with the Mary Poppins star Dick Van Dyke.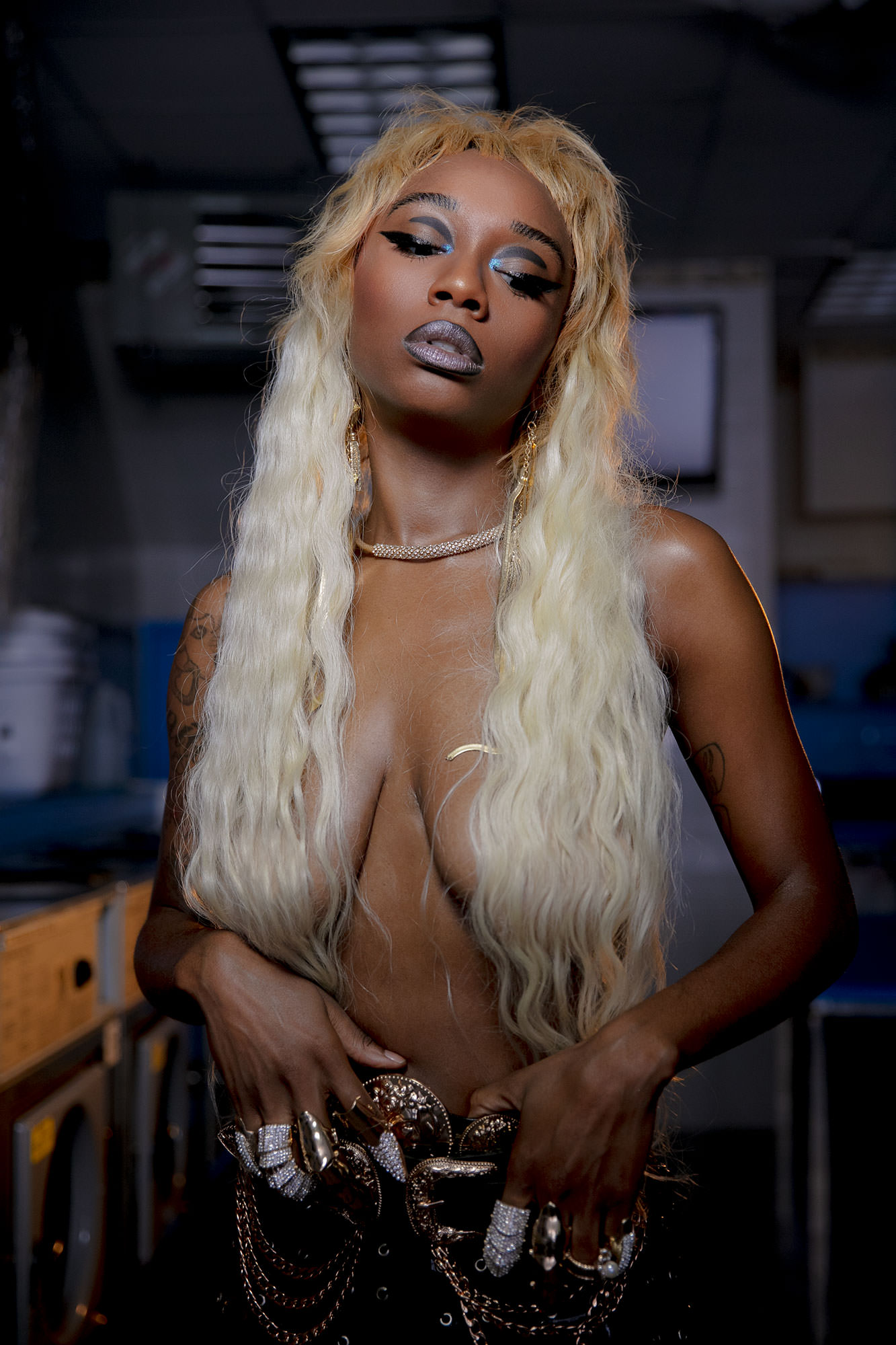 Junglepussy is just one part of a bigger movement that resonates far beyond its original context. In 2011, Toronto held its first Slutwalk in protest against social attitudes that blame and stigmatize victims of sexual assault by referring to their appearance. In 2014, Amber Rose hosted her first Slutwalk in Los Angeles, giving it a national platform in the U.S. That same year, Kelly Sue Deconnick released a feminist comic book titled Bitch Planet. Needless to say, people had questions. During an interview with NPR, Deconnick explains: "You know, bitch is a terrible thing for a woman to be called, right? That's the thing that we're all sort of afraid of. We so wanna be liked! And I'm a pleaser as much as anybody else is, and I don't want to be considered unpleasant, but, you know, sometimes, I'm also the boss. And if I am unable to continue for fear of being called a name, I'm not a very effective leader. And so, there's an attempt there to just sort of own it, put it out there." In 2017, Rep. Maxine Waters would repeatedly declare "reclaiming my time" during a House Financial Services Committee meeting signaling a moment for her and, thanks to the online viral camaraderie, all of us to take our power back.
"Growth is not victimizing myself," Junglepussy asserts. "Yes, the odds are against me as a Black woman, as someone who chooses to use a name that reminds you of a Black woman. It's like no hiding my Blackness, and that was a choice that I made, and that was intentional because I feel like it's so easy to just be an artist and stray away from important things. And I'm like, no, I'm going to keep this name because I feel like it's my universe given name." Boldly claiming a provocative moniker – especially one that goes against conventional notions of feminine propriety – not only becomes a radical expression of self-love but also pays homage to old age feminists, where seduction and female empowerment are not decoupled. Cultural historian Betsy Prioleau explores this in her book Seductress: Women Who Ravished the World and Their Lost Art of Love: "Though long misunderstood and ignored, the seductress is the paradigmatic liberated woman, empowered with men and empowered in life. She's a threshold role model who can reinstate feminine sexual sovereignty and holistic happiness and remap the future." Junglepussy comes out completely in charge of her identity, belonging deeply to herself and in the process adding dimension to both womanhood and Blackness. "It wasn't until recent years, because we have the internet, we're able to see there is no way to be Black. It's not like, oh you're just Black that's it. It's literally such a smorgasbord of awesomeness," Junglepussy expresses with infectious enthusiasm. It feels like a verbal embrace, a nod to the shared trait that would make up hers, and my appearance. Even though we differ in many important ways, we can align in the experience of Blackness. "After I did my first song, Cream Team," she continues "I felt like it was a song where I'm coming out as Junglepussy, rapping about my pussy, pouring milk on my titties, people were just going to expect that from me. I was just like this is not all of me. Yes, it's a part of me, but this is not all of me."
So what does it mean exactly? To show spectrum in Blackness? To be a part of a community that isn't monolithic but still shares a deep sense of connection? Think Kanye West, an artist who raps about dropping out of college and later interns at Fendi. Or Pharrell, a Hip Hop producer who skateboards. Think Missy Elliott and her genre-bending sound paired with mind-bending visuals. Or Issa Rae, the self-proclaimed awkward black girl. Donald Glover the nerdy comedian by day and prolific rapper by night. FKA Twigs' ethereal and avant-garde aestheticism. And ultimately Junglepussy, a polymath of creative expression. "There are 40 million black people in this country," Henry Louis Gates, Jr. opens in Black Cool: One Thousand Streams of Blackness, "and there are 40 million ways to be black." I ask Junglepussy if she thinks the entertainment industry has caught on. "Not until they look at me just like Cher or Celine Dion," she chuckles. "It just needs to be regular. It just needs to be normalized. Until they see that then no work is being done."
To be fair, there is nothing regular about Junglepussy. Up until her sophomore album, her artistry felt like a focused catalog of self-care advice, man-checking rhymes, and libertine boasting. "When I first started doing music, I had just gotten out of a relationship, and I haven't been in a relationship since," she explains. "So all that music I was doing — I'm trying to liberate myself, distance myself from men." Take her single "Bling Bling" which Bjork includes in one of her DJ sets: "Don't let me catch you knocked up having that nigga's kids / You are the not the wifey for swallowing nigga's kids / These niggas be doing bids / These niggas be in my fridge / These niggas be smoking mids and thinking that they the shit / Walk up in ya crib asking if they could live / Not about that."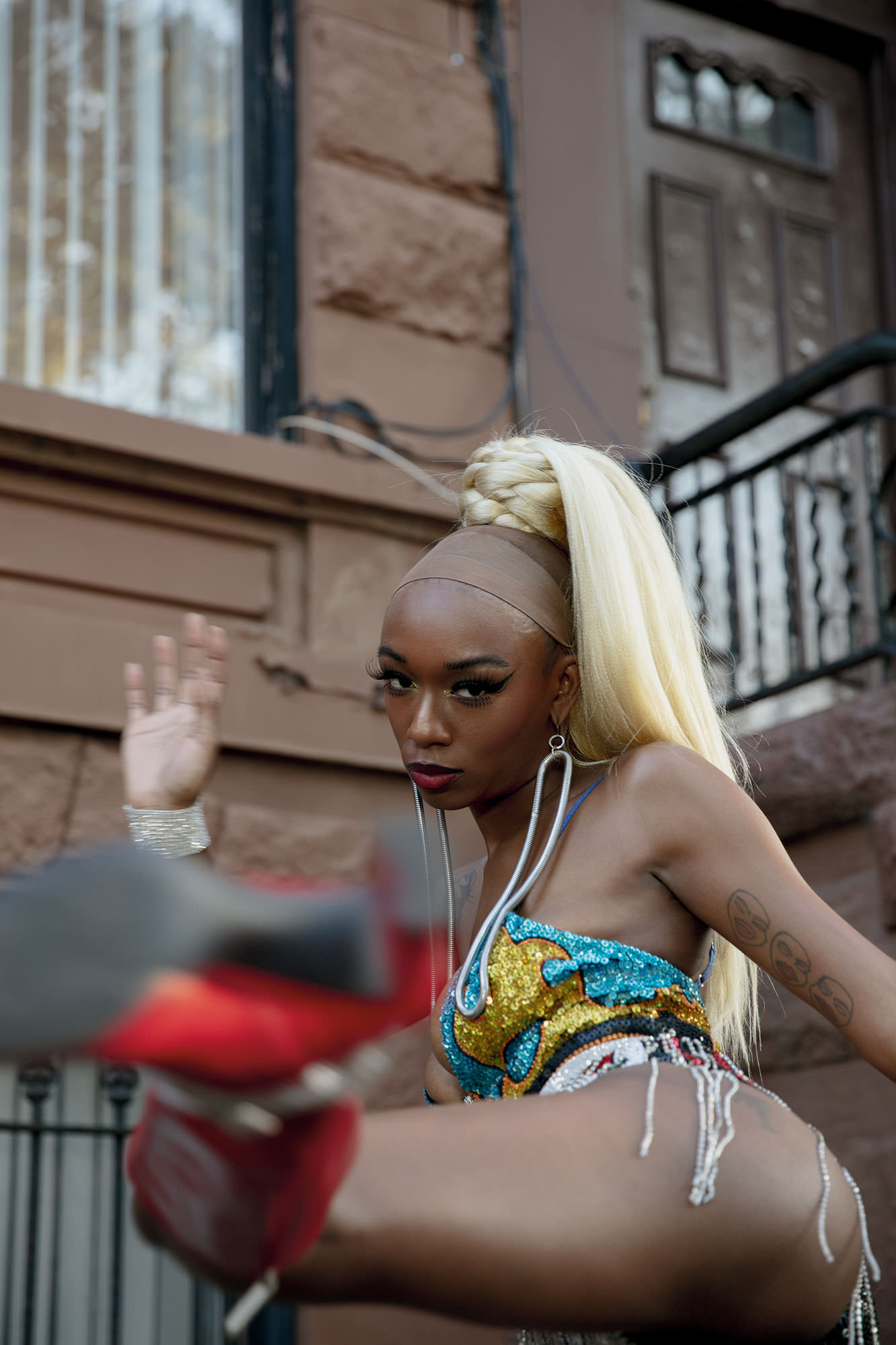 But after career coups that include an acting debut in the Obama-approved movie Support The Girls, invites to speak at Ivy League schools, features in major national publications, or nods from your favorites like Erykah Badu, no one can deny the mainstream appeal of Junglepussy. Especially not Junglepussy. It's shifted her perspective, not only on why she creates but also on who she creates for. "Being Indie, it's like there's nobody giving you a true temperature of what you're doing because you don't have all these industry people around you with a gauge on everything. I'm just being myself, and that's all I ever try to focus on because the other shit, it just gets too muddy. I have way too many resources today to let somebody erase me in 10, 20 years. So, I'm just like I just need to continue. That's why when Cult Classic hit me up I was like, 'Oh, it's going to be in print? Okay, so it could last through the Apocalypse'. I feel like I'm literally here for those people with those journeys: true authenticity, true growth, actually being you and figuring out the best way to share it with the world."
Her latest album JP3 is the first time she offers listeners a glimpse into that growth. So intimate is the project that it even features a duet with her then three-year-old nephew, Zachary. It would also be the first time we get to actually see THE Junglepussy, who made her visual debut at the same time as Junglepussy's new character Ginger in the Trader Joe's video.
"I knew I wanted it to be a story about a hard-working farmer girl. I knew that for sure. And I also wanted to play on the concept of Black Sheep, like Babe in Charlotte's Web. Everybody was so mean to the pig on the farm, all the other animals were like, 'What are you? You a pig. They don't do nothing with you. They milk me, and I related because I'm like, well just because niggas don't milk me don't mean I don't got a purpose. And I so related to the pig. And I was like, 'Well, I ain't no pig bitch' so I need to come up with a different character. And I animorphed into Junglepussy." That's right. The black cat-like, sheep-like hybrid with the fat ass? That's Junglepussy. So who is Ginger? It's Shayna in the future. Asked where she sees herself in 20 years, she replies: "I'm living on a farm with no WiFi. I don't even really need to go to the supermarket anymore. Everything I need grows around me, and I no longer feel that hustle and bustle of New York City. You're at peace, and you worked hard, and you deserve it, and I'm glad you stuck to your guns, and you didn't let anybody try to define you. And you didn't change your name. You kept Junglepussy because everybody wanted you to change it, for whatever reasons, they thought you should change it, and I'm glad that you held onto it because now you have this beautiful legacy," she gushes.