NO BOYS ALLOWED
Why You Loved Last Night: Miami
Written by
Apryl Fuentes
Photos by
Azha Ayanna
Miami, home to Art Basel, Lower East Coast, and Stray Rats, is full of cultural highlights and creativity that has yet to garner national attention the way South Beach does. Downtown is practically the party capital of the East and West Coasts, with at least one event happening every single night of the week. Picturesque palms line the streets of a city that doesn't seem to get much sleep with all it has to offer. A layer of humidity fills the night air and won't dissipate upon entering the dewy glow of a bar party downtown. Gio Mourin is no stranger to this atmosphere. As a Miami native having grown up in the scene, sneaking into venues at 17, his everyday version of the 305 unearths an aspiring underground experience he is proud to share with any new comer.
Known as Latenite, Mourin has been DJing since the age of 20, starting off in the typical bar setting as part of a regular Sunday party. For someone with such an extensive music taste and knowledge, routinely playing the same Top 40 music that everyone wanted to hear, quickly became unfulfilling.
"My history and roots with Miami are in dance music. We have Miami bass music, we had an era of Miami juke. It's all high energy. For me, that's what I predicted myself getting into as DJing going forward. Once I started noticing I was compromising what I wanted to do, to please a crowd, I started having ideas."
No Boys Allowed (NBA) is true to its name. No man is granted entry, unless a woman invites him into the space and walks with him into the event. It is the one guaranteed night you can say, "No you can't come with me tonight, I'm going with friends." A literal "no boys allowed" rule and no tolerance for harassment is enforced to ensure women attending can shine, without having to worry about a guy approaching mid-dance for an ounce of attention on the dancefloor. NBA is Mourin's direct response to toxic masculinity in the mainstream Miami party scene. During his debut DJ stint, he took note of the aggressive nature of bar cultures where women would never dance and instead stand in all corners of a room while groups of men occupied the dancefloor. Mourin wishes to remain behind the scenes (and the decks), while watching the energy of this monthly party flourish, as part of his goal to provide a space for women to feel safe in nightlife. With the resources available to him, party operations are led by his team of talented friends: Kamari (resident DJ), Richard (photographer/design), Alex (management and party hostess), and Kassy (social media manager).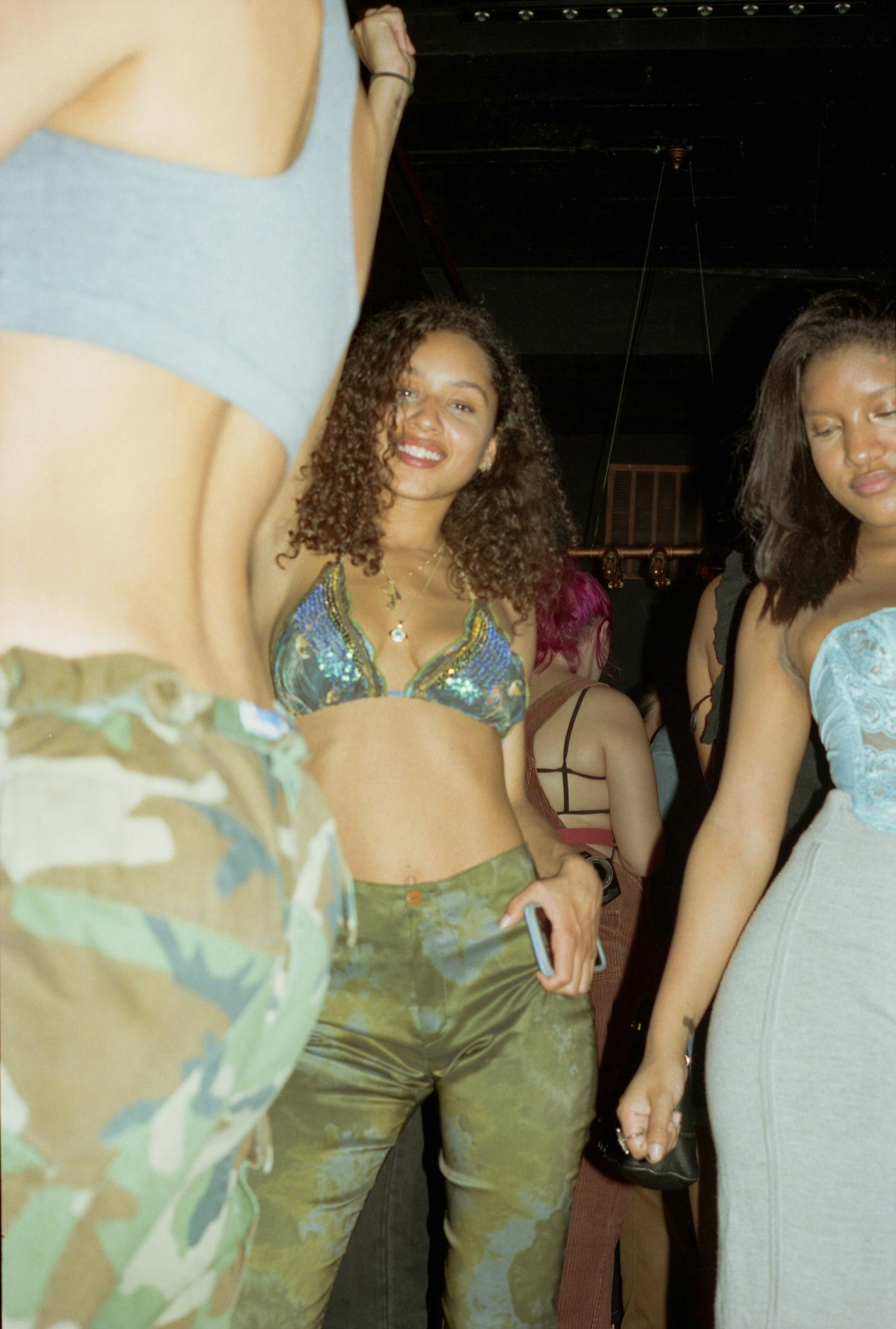 So why is it called No Boys Allowed if a guy started it? Mourin anticipates this confusion, well aware of the reality that people will have feedback and opinions about his work. He wants nothing more than to be receptive and make a difference. Miami is chock-full of macho ideals, making a party like NBA contextually significant to the culture of this city. I find it important that within a historical time like this, when we can participate in dialogues about male toxicity and respecting women's humanity and boundaries, that a young person's response (let alone a guy's response) was to create literal space centered around women. This should be happening everywhere. To my amazement, Mourin shared that in nearly two years of throwing NBA, there has not been a single instance of harassment or rule violation in the event's space. I say amazement because this truly shows how the culture that Mourin and his team have created is self-aware and self-healing—a nightlife anomaly.
"We try to make No Boys Allowed feel like a homegirl to you. We want that energy to be part of the experience. You want to party with other women, you want someone to look up and say, 'That's a person I feel comfortable with.' There is a whole entire identity to it."
With an avid love for pop culture kitsch, Mourin creates thematic party visuals and interactive experiences, like Barbie and Bratz themed night with a giant Barbie box photo opp and Halloween's "Get a Clue" theme—just a couple of '90s favorites. As the event grows, his wish is to expand opportunities through community activation, partnering with brands who can invest in various creative workshops and event production, that all live under the No Boys Allowed umbrella.
Under the warmth of this Miami night, we head out to the venue, a spot named Aftermarket, to meet Kassy, Alex, Gio and Richard while Kamari is playing his opening set, around 11pm. Up a flight of stairs is this elaborate lounge with a den-like area where you could see a row of seats and a faux library giving the place a speakeasy vibe. Unlike typical crowd settings, where the first to arrive are shy, women in the room are already dancing amongst each other. Kamari plays 2000s hip-hop/R&B throwbacks, sending the crowd into excitement when their favorite song comes on. I couldn't help but say the words to "Flashing Lights" when my favorite line came on, midst conversation.
People trickle into the lounge, in groups of homegirls, some with their boyfriends, others with best friends, all ready to show out. Miami girls really know how to style club wear—many adorned in sexy, fun 'fits, suitable for sticky weather. What really made an impression, was the lack of flashiness, as the energy was fueled by people dancing and not reliant on atmospheric club devices. There was no smoke and mirrors to this, simply bodies in movement. Mourin heated things up by playing an anticipated selection of his own Jersey Club edits—a Destiny's Child Bachata flip (screaming internally). I can't forget the bounce that had people twerking all over the stage, and Miami classics that the crowd scream-sang in unison to, closing off the night. The lights go on and everyone applauds another successful NBA, thanking the DJs and hosts, before dispersing.
Women need more opportunity to create, engage, and express themselves comfortably without fear of repercussion. We should call the shots, play the sets, move our bodies, and build trust in spaces such as this. With hope for the future, this slice of Miami nightlife makes the possibility of change within male-dominated arenas, a palpable reality.