Slander (WIP)
bastiengoat
0:00
Shut Everything Down
Mosca
10:55
Wanna Be (Groovy D's 99 Speed Garage Mix)
Dehousy
16:36
To a level where love is real (Forthcoming on Worst Behavior)
bastiengoat
23:12
double take
bastiengoat
29:41
Dep first draft
Ben Hauke
40:00
Make Sum Noise
DJ Geto Man & DJ Stretch
43:00
recursive
bastiengoat
45:07
The WASP
Thys & Nikki Nair & Kelbin
47:20
everybody in the club
bastiengoat
50:49
Solid Shadow
bastiengoat
52:12
midnight sweat (WIP)
bastiengoat
54:00
Goi Berserk (bastiengoat remix) (Forthcoming on Evar Records)
Amadeezy
56:00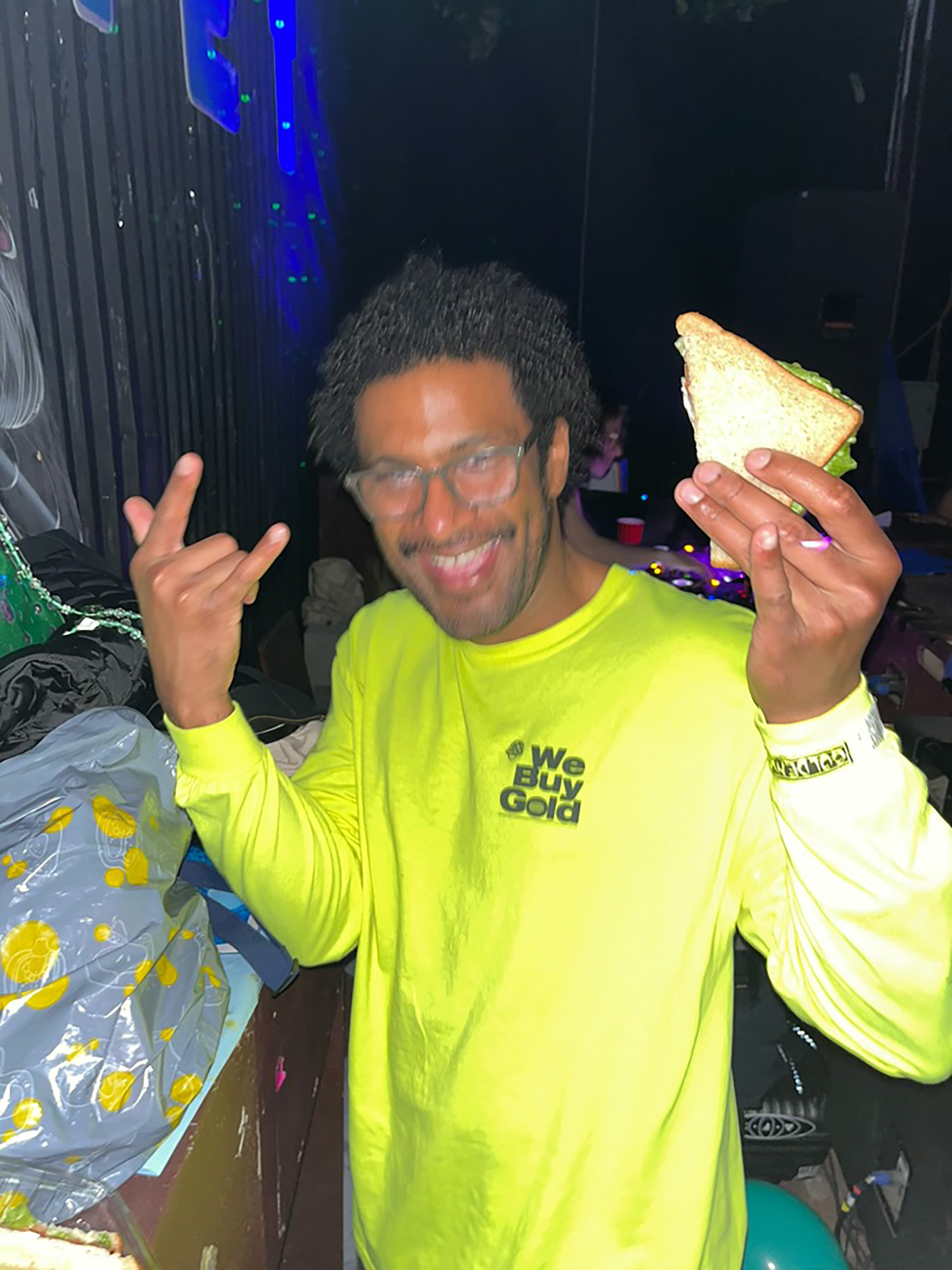 bastiengoat For Cult Classic Radio
Bay Area born and raised, bastiengoat, has become a well known name amongst the Bay Area underground and beyond over the past decade. With production that infuses techno, juke, breaks, and jungle with west coast genres such as hard house, funk, and hyphy, this artist melds together a plethora of club sounds. Always representing his raw Bay Area underground roots, you might hear hardcore gabber kicks over a Keak Da Sneak sample. Atop the nostalgia and references, bastiengoat's sound is also comprised of adventurous and wonky synthesis which lends a unique flavor and color. He has quite an extensive and diverse catalog with DJs playing his tracks all over the world.


Q: How would you describe your mix?

A: My focus for this mix was to share music that I've made recently, as well as some new and older tracks with sounds that have been inspirational to me lately. I've been particularly into sound design this past year. 
Q: What are some of the images you chose for the mix artwork?
A: I have been a chemist for over a decade, and I am also very into math. Those two subjects occupy a lot of my brain and inspire my music often. One particular math I love is topology and the way it allows us to conceptualize theoretical spaces and volumes. Sometimes when I am working on music, I think about the way the sounds would fill these spaces. I chose one of my favorite shapes, a Klein bottle. 
The other image is potassium, an alkali metal I once worked with a bit, in oil. The properties of these metals are very interesting to me. In regards to music when I think of metallic sounds, I think of these lately instead of a sheet of metal. They're pliable and easy to cut, but highly explosive when around water. 
Q: Your mix includes lots of your own productions, are there any upcoming releases that you're working on?
A: I included two tracks off of an EP I'm working on that doesn't have a name yet, but should be out in August. I've always loved synthesis but I've been particularly synthesis focused lately. I'm working on an album that is going to be filled with a lot of synthesis with a lot of wet and metallic textures. I will drop a few EPs between now and then with some of the sounds but I think the album will take me a few years. Also thinking of putting out a sample pack.
Q: What is one of your favorite parts of the Bay Area rave scene as a DJ born and raised there?
A: I was JUST old enough to catch a ton of really fun break-in parties and tail ends of some legendary spots. There are still a lot of break-in and underground parties, but there are nowhere near as many abandoned buildings/warehouses in the bay due to all the development taking place. Diversity can be found in underground scenes all over the world, but the mixes of people I have met within the bay have always been particularly special to me. Whether they're from here or drawn into the bay somehow. From the rawness of the Oakland underground hardcore sound to the hyphy house parties. 
I do love DJing at a rave and slipping in a bay slap, and just seeing all of the bay people push through the audience to come gig in the front. I love meeting other people with borderline obnoxious love for the bay. 
Q: What is one of your best dancefloor memories?
A: This is super cheesy, but the first rave I ever went to was at this venue in SF called cell space and I was really nervous. Up to the point I'd never truly lost myself in dance around people. I was a pretty bottled up kid. My friend gave me some… substances… and I remember leaving the main dance floor to go up these stairs to a tiny sweaty room with a red light where someone was playing what I now know to be hard house. That was the first time I lost myself sweatily dancing (pretty sure I was mainly just jumping hahaha). I met, kissed and held hands with strangers that became people I am still friends with to this day. That night changed my life. 
On a sillier note, some of these venues have had overly elaborate decorations. A warehouse my friends and I used to have years ago, had a toilet near or possibly on some speakers at some point. One day, of course, it fell on the dance floor in the middle of a party. I don't know why we thought that was an OK thing to do and I'm glad nobody got hurt, but I just remember hearing a crash and someone screaming about a toilet breaking on the dance floor….. all said and done it was ridiculous, but funny.